News & Events

INDIAN NAVY AWARDED AN ORDER FOR SUPPLY, INSTALLATION & COMMISSIONING OF POWER FENCE SYSTEM FOR RS. 4.08 CRORE WHICH, PROBABLY, IS THE BIGGEST ORDER EVER BAGGED BY AN INDEGENEOUS MANUFACTURER IN THE FIELD OF POWER FENCE

CROWN SOLAR PROUDLY LAUNCHES, FIRST OF ITS KIND, INDIGENOUSLY DEVELOPED IP BASED ELECTRIC FENCE ENERGIZER WITH ONBOARD LCD WITH KEYPAD, NETWORK CONTROLLER FEATURES PROVIDING LIVE STATUS OF THE INSTALLED FENCE SYSTEM. IT NOT ONLY PROVIDE MONITORING FACILITY BUT ALSO PROVIDE CONTROL OVER THE SYSTEM

CROWN SOLAR PROUDLY ANNOUNCES THE LAUNCH OF ANOTHER PRESTIGEOUS PRODUCT - PERIMETER INTRUSION DETECTION SYSTEM (PIDS)

LIST OF OUR MAJOR CUSTOMERS INCLUDE THE FOLLOWING:
1. Indian NAVY Sites: Naval Dockyard & Ship Building Centre in Visakhapatnam, INS HANSA, NAY Kochi, Naval Dockyard in Mumbai, MO Goa, Naval Academy in Kannur etc. 2. Indian Air Force (Sites: Air Force Runway in Kalaikunda & Tanjavur). 3. Bharat Oman Refineries Ltd., BINA, Madhya Pradesh. 4. Government of Telangana and Andhra Pradesh. 5. National Mineral Development Corporation. 6. GMR International Airport, Hyderabad. 7. SHAR Space Centre, Sriharikota. 8. Space Application Centre, Ahmedabad. 9. National Aluminium Company Ltd, Odisha. 10.National Remote Sensing Centre, Balanagar & Shamshabad Units. 11.Bharat Reserve Bank Note Mudran (P) Ltd., Salboni. 12. District & Sub Jails in the State of Madhya Pradesh. 13. Indian Space Research Organization units in Bangalore. 14. Defence Research Development Organization (DRDO) units in Jaiselmer, Bikaner, Bangalore, Mysore, Assam, Ajmer, Deoghar, Bellary & Nagarjuna Sagar. 15. Hindustan Aeronautics Ltd. units at Bangalore, Lucknow. Kanpur and Kochi. 16. State Forest Departments in Chhattisgarh, West Bengal, Odisha, Andhra Pradesh and Karnataka.
Welcome to Crown Solar Power Fencing Systems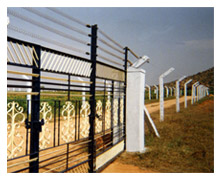 CROWN Solar Power Fencing Systems (CSPFS), a division of CROWN group of Companies, is an ISO 9001: 2015 Certified Firm registered under MSME having expertise in Manufacture, Supply and Installation of security systems for more than 16 years. CSPFS is a LEADER and a MOST TRUSTED Brand in Active as well as in Passive Security systems in India.