News & Events

CROWN SOLAR proudly announce its entry into INDIAN NAVY for CCTV project as a Sub-contractor

Govt. of AP awarded following prestigious projects related to Security of VVIP locations in Hyderabad:

To provide CCTV & Networking System at proposed A.P Secretariat, Hyderabad for a value of about Rs. 60 lakhs.

Up gradation of Solar fencing System and CCTV system at Hon'ble Chief Minister Camp Office Cum Residence, Hyderabad for a value of about Rs. 78 lakhs.

Providing Solar Power Fencing and Installing CCTV at focal points in RAJ BHAVAN, Hyderabad for a project value of about Rs. 1.26 crore. Facility Management is in progress.

CROWN SOLAR entered into the field of Perimeter (Passive) Intrusion Detection System to meet various High security requirements in India.

Executed a 12 Crore project at HMEL Refinery, Bhatinda for SITC of about 20 KM of Electric Fence system, Motorized Gates, Chain Link Fence System and Perimeter Lighting Systems. CAMC is in progress.

Executed project at Bharatiya Reserve Bank Note Mudran Pvt. Ltd., Salboni for SITC of about 2 KM of Electrical Power fence system. CAMC is in progress.
Welcome to Crown Solar Power Fencing Systems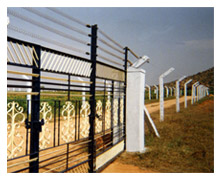 CROWN Solar Power Fencing Systems (CSPFS) is one of the pioneer in manufacturing various Perimeter Security Systems and Solar based components in the Country. Due to the changing scenario of security threats worldwide the time has come to think differently in protecting your family and properties.