News & Events

INDIAN NAVY AWARDED AN ORDER FOR SUPPLY, INSTALLATION & COMMISSIONING OF POWER FENCE SYSTEM FOR RS. 4.08 CRORE WHICH, PROBABLY, IS THE BIGGEST ORDER EVER BAGGED BY AN INDEGENEOUS MANUFACTURER IN THE FIELD OF POWER FENCE

CROWN SOLAR PROUDLY LAUNCHES, FIRST OF ITS KIND, INDIGENEOUSLY DEVELOPED IP BASED ELECTRIC FENCE ENERGIZER WITH ONBOARD LCD WITH KEYPAD, NETWORK CONTROLLER AND MOBILE APP FEATURES PROVIDING LIVE STATUS OF THE INSTALLED FENCE SYSTEM. IT NOT ONLY PROVIDE MONITORING FACILITY BUT ALSO PROVIDE CONTROL OVER THE SYSTEM THROUGH MOBILE APP

CROWN SOLAR THANKS ONE AND ALL FOR TAKING THEIR VALUABLE TIME AND VISITING OUR STALL AT IFSEC EXHIBITION 2016 IN DELHI. WE WILL BE GLAD TO HEAR FROM YOU ON VARIOUS SECURITY RELATED REQUIEMENTS TO ENABLE US TO ATTEND THE SAME ON PRIORITY

CROWN SOLAR PROUDLY ANNOUNCES THE UPGRADATION OF ISO CERTIFICATION FROM EXISTING ISO 9001:2008 TO ISO 9001:2015

AIRPORT AUTHORITY OF INDIA AWARDED ORDER FOR SOLAR POWER FENCING FOR SVPI AIRPORT, AHMEDABAD

LIST OF OUR MAJOR CUSTOMERS INCLUDE THE FOLLOWING:
1. Indian NAVY Sites: Naval Dockyard in Visakhapatnam, NAVY Kochi, Naval Dockyard in Mumbai, MO Goa. 2. Indian Air Force (Sites: Air Force Runway in Kalaikunda & Tanjavur). 3. Bharat Oman Refineries Ltd., BINA, Madhya Pradesh. 4. Government of Telangana and Andhra Pradesh. 5. National Mineral Development Corporation. 6. Raj Bhavan in Hyderabad. 7. SHAR Space Centre, Sriharikota. 8. Space Application Centre, Ahmedabad. 9. National Aluminium Company Ltd, Odisha. 10.National Remote Sensing Centre, Hyderabad. 11.Bharat Reserve Bank Note Mudran (P) Ltd., Salboni. 12. District & Sub Jails in the State of Chhattisgarh. 13. Sub - Jail in Yanam. 14. Defence Research Development Organization (DRDO) units in Jaiselmer, Bikaner, Bangalore, Mysore, Assam, Bellary & Nagarjuna Sagar. 15. Hindustan Aeronautics Ltd. units at Bangalore, Lucknow. Kanpur and Kochi. 16. State Forest Departments in Chhattisgarh, West Bengal, Odisha, Andhra Pradesh and Karnataka. 17. Dr. YS Parmar University of Horticulture & Forestry, Nauni, Himachal Pradesh.
Welcome to Crown Solar Power Fencing Systems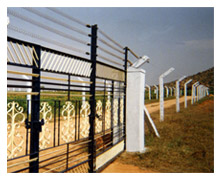 CROWN Solar Power Fencing Systems (CROWN SOLAR) is one of the pioneer in manufacturing various Perimeter Security Systems in the Country. Due to the changing scenario of security threats worldwide the time has come to think differently in protecting your family and properties.